Epoxy Bonded Rigid Mica Laminate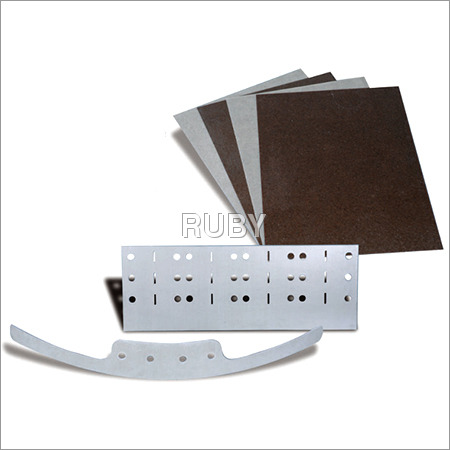 Epoxy Bonded Rigid Mica Laminate
Product Description
Epoxy Bonded Rigid Mica Laminate
Ruby Mica Rigid Mica Laminate is made by combining uncalcined muscovite or phlogopite mica-paper with an inorganic silicone-resin binder under specific heat and pressure.

It has excellent rigidity, heat-resistance, moisture-resistance and di-electric properties. It is a completely asbestos- free and highly chemical-resistant insulation having low thermal-conductivity. It does not emit smoke or odor upon heating up. Since the binder plays a critical role in the overall product performance, the best commercially-available resin,with as much as 82% solid silicone content,is imported from Germany for excellent results.
Muscovite mica paper-based material can withstand temperatures up to 600C whereas, phlogopite mica paper- based material can withstand high temperatures up to 800C. The product is IEC 60371 -3-3 compliant.
A choice of epoxy resin is also available as a binder. Ruby Mica Epoxy Rigid Mica Laminates have higher rigidity, highly-uniform surface profile and weatherproof properties when fully cured. However, the working temperature is limited to 250oC - 300C. They are mainly used for commutator-segment insulation.

Application

Heating-element supports, winding-cards and cover-plate insulation in domestic appliances and industrial-heating elements. Its superior chemical-resistance makes it an ideal battery-cell separator. Highly temperature-resistant mica machined parts for complete Ferro alloys submerged arc furnace and induction furnace insulation. Dynamic breaking resistors in railways and plate-insulation in heated presses.

Thermocouples and conductor insulation.

Availability

Standard Sheet

Length 1000 mm
Width 600/1000/1 200 mm
Thickness 0.1 to 75 mm
(Sheets can be sheared to customized sizes)
Standard Tubes

Length 10 -1000 mm
ID 6 - 200 mm
(Tubes can be rolled to customized sizes)