Fiberglass Epoxy Bonded Sheet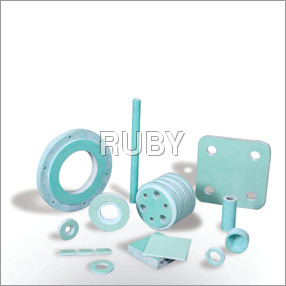 Fiberglass Epoxy Bonded Sheet
Product Description
Fiberglass Epoxy Bonded Sheet

Fiberglass Epoxy Bonded Sheet are made by combining glass cloth with an epoxy/silicone resin as a binder, cured under specific heat and pressure.
It has excellent rigidity, heat-resistance, moisture-resistance and di-electric properties. It is a completely asbestos-free and highly chemical-resistant insulation having low thermal-conductivity. It does not emit smoke or odor upon heating up. Epoxy-based composites can withstand temperature up to 250-300C, whereas silicone-bonded composites can withstand temperatures up to 350-450C.
Specification
| | |
| --- | --- |
| Resin Type | Epoxy |
| Thickness | 1 - 75 mm |
| Applicable Temperature | <450 degree celsius |
| Company | RUBY MICA |
Application
Highly temperature-resistant composites machined-parts for Ferro alloys submerged arc furnace and induction furnace insulation.
Slot packing insulation in HT motors, high-temperature washers in lifting magnets, etc.
Availability
Standard Sheet
| | |
| --- | --- |
| Length | 1000 mm |
| Width | 600/1000/1200 mm |
| Thickness | 0.1 to 50 mm |
(Sheets can be sheared to customized sizes)
Standard Tubes
| | |
| --- | --- |
| Length | 10-1000 mm |
| ID | 6-200 mm |
(Tubes can be rolled to customized sizes)
Machine Composite Parts
Product Data Material
| | | |
| --- | --- | --- |
| Fiber Glass Cloth | % | 70 + 5 |
| Epoxy Resin | % | 30 + 5 |
| Fiber Glass Cloth | % | 80 + 5 |
| Silicone Resin | % | 20 + 5 |
Mechanical
| | | |
| --- | --- | --- |
| Density | G/cm3 | 1.9 + 0.5 |
| Tensile Strength | MPa | >275 |
| Flexural Strength | MPa | >230 |
| Compressive Strength | MPa | >400 |
Electrical
| | | |
| --- | --- | --- |
| Dielectric Strength | KV/mm | >30 |
Thermal


Operating Temperature

C

250-300 (Epoxy)

350-450 (Silicone)
Other
| | | |
| --- | --- | --- |
| Weight Loss | % | <0.5 |
| Water Absorption | % | <0.1 |