Glass Mica Sheet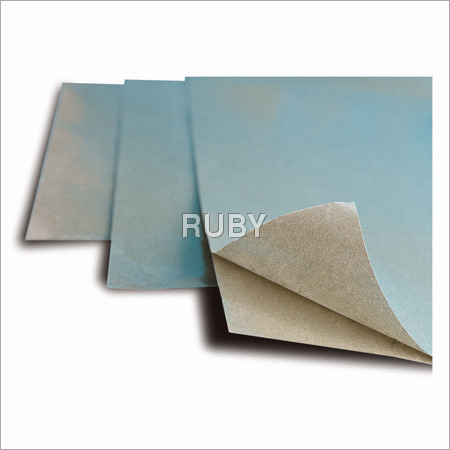 Glass Mica Sheet
Product Description
Glass Mica Sheet

Glass Mica Sheet is a lamination of uncalcined phlogopite mica paper with a glass cloth. High thermal-grade silicone resin is used as a binder. This highly-flexible material can easily withstand temperatures to the tune of 950C.
These do not emit any smoke or odor upon heating up. They have excellent electrical-resistance and high thermal-conductivity increasing the overall efficiency of the furnace.
Application
Slip-plane insulation in furnaces protecting the coil and high-temperature resistant refractory linings and relining of crucible furnaces. Apart from providing electrical and thermal Insulation it also acts as a gas-diffusion barrier.
Mica is an excellent substitute for asbestos due to its many working-environment health-benefits and green biodegradable properties. Mica ensures maximum worker safety and greatly reduces the furnace down time due to the accumulated sintered mass.
Availability
| | |
| --- | --- |
| Length | 25 m |
| Width | 1000 mm |
| Thickness | 0.2 - 4 mm |
Packing
Folium is packed in airtight robust boxes protecting them from dirt, dust and moisture. The packaging also ensures safe transit and storage.
Storage
12 months at 20C.
Product Data
| | | | |
| --- | --- | --- | --- |
| Properties | Test Method | Unit | Value |
| Total Substance | IEC 60371 - 2 | G/m2 | 634 + 16 |
| Mica Paper | IEC 60371 - 2 | % | 71 |
| Glass Content | IEC 60371 - 2 | % | 15 |
| Resin Content | IEC 60371 - 2 | % | 14 |
| Nominal Thickness | IEC 60371 - 2 | mm | 0.4+ 0.01 |
| Tensile Strength | IEC 60371 - 2 | N/cm | < 160 |
| Stiffness | IEC 60371 - 2 | N/m | < 55 |
| Breakdown Voltage | IEC 60243 - 1 | kV | < 4 |